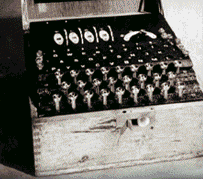 A very lengthy discussion of the benefits of Ultra.

By the National Archives and Records Administration, this page is a collection of primary documents relating to U.S. intelligence operations.

Read about why the USAAF, on April 22, 1945, combined technical and post-hostilities intelligence objectives under the Exploitation Division with the code name LUSTY.

During WW2 the German armed forces top secret codes were broken at Bletchley Park, providing the allies with vital infomation towards their war effort.

Memorial site to Special operations executive officers, agents, resistance groups and aircrew 1940-1946.

"Decoding Nazi Secrets" a site that chronicles how the Allies succeeded in cracking the infamous German message-coding machine, the Enigma.

This extensive site illustrates the many elements of American counterintelligence operations.

This top secret World War II Secret Agent Training School was strategically placed in Canada on the shores of Lake Ontario.

Navajo answered the military requirement for an undecipherable code because Navajo is an unwritten language of extreme complexity.

Tunnels, Shelters, Armament production; Undergrund Systems of WW II.

The Venona Project, a very secret programm to examine, and possibly exploit, encrypted Soviet diplomatic communications.

The breaking of the sophisticated German machine cipher was the most spectacular event, in terms of difficulty and far-reaching consequences, in the entire history of secret writing.

How the Enigma works, a simple cipher.

[Welcome]- [Introduction]- [1889-1930]- [1930-1938]- [1939]- [1940]- [1941]- [1942]- [1943]- [1944]- [1945]- [Museum]- [WWII HomePages]- [Secret]- [Related]- [Postscript]- [Message-board]- [Comment]- [Guest-book]- [Webrings]- [Trade]
---
Page maintained and created by Wilfried Braakhuis.
Copyright © 1997-2007 Wilfried Braakhuis. All rights reserved.
This page, and all contents, logos and images are Copyright © 1997-2007, and protected by Elite Engineer Publishing, Netherlands law for The World at War.