The touch of the War,




Never has there been a war that could have been avoided more easily than the one that has just destroyed (1939 - 1945) whatever was left of the world after the previous confrontation (1914 -1918). Human tragedy reaches its peak in the fact that at this very moment, after all the efforts and sacrifices of hundreds of millions of people, and after the victory won over evil, we have still not found peace or safety and we are still in the grip of dangers which are even worse than the ones we have survived. I seriously hope that a careful consideration of the past may show us the way in the years to come, that it will enable the new generation to make up for the errors committed in the past and that they will thus be able to rule this vast, rapidly developing world, in accordance with the needs and the dignity of mankind, with the help of all the numerous new technological developments at our disposal, such as nuclear energy and electronics, and all their benefits.
The nations who now have the task of translating military victory into a lasting peace. It is a task which called for boldness and imagination on the part of their leaders, and for a readiness on the part of the peoples to abandon old concepts and habits and seek a fresh basis for a true world order. Victory carried with it a challenge and an opportunity. A world which had failed so often in the past was given one more chance to show that man's intelligence was equal to his ingenuity could be matched by his wisdom in social and political reconstruction. Success would lay the foundation for an era of human well-being unparalled in history. But unless wisdom triumphed over the forces of greed and ambition and fear, the world might find that it had thrown away its last chance of salvation which it had bought at such a terrible price.
For the sake of world security, the power and resources of potentially great nations must be kept from falling into the hands of nationalist neurotics with the acquiescence of political illiterates, but there was no obvious and easy method by which this aim could be assured.
The legacy of the World conflict,
Six years and a day from that fateful dawn when Hitler's tanks crashed across the Polish border and his bombers swept over Warsaw, the world holocaust that had been kindled by this act of aggression was at last extinguished, and mankind could survey the ruinous toll it had taken in lives and resources. Every nation on the face of the globe had felt the impact of the struggle. Even those few countries which had managed to remain officially aloof from participation had suffered profound dislocations which drastically affected the daily lives of their populations. In the belligerent states the whole of the national energy had been geared directly or indÓrectly to the war effort. Approximately 100 million men and women had been mobilized in the armed forces of the combatants. (General Marshall estimated 93 million, of which over 62 million were mobilized by the Allies. Biennial Report, Washington, 1945. Molotov placed the total at over 110 million. New York Times, Nov. 7, 1945.)
The activities of a large proportion of the remaining population had been diverted from peacetime pursuits to war production; and millions of them had been uprooted by the tide of invasion or rendered homeless and destitute as a result of bombing attacks. Eight months after the close of hostilities the world was still trying to cast the reckoning in terms of lives alone. Even the total losses in combat still had to be established with finality.

The only official figures came from Britain and the United States. These showed that in killed and missing the British Commonwealth had lost 444,500 and the United States 308,600. But such figures were dwarfed by the slaughter in eastern £urope, where by June 1944-almost a year before the collapse of Germany-Russia had lost 5,300,000 in killed and prisoners. No later figures had as yet been made public by the Soviet Union, and nothing more than tentative estimates were available for the Axis states. The German High Command reported 3,500,000 killed and missing up to December 1944, but Prime Minister Attlee in the following October estimated that with the inclusion of permanently disabled the total German losses at the time of surrender were 7,400,000. American military authorities may have been high in their initial estimate that the European war cost all belligerents 14 million dead and 5,500,000 permanently disabled; but if those figures were taken as covering the global war and as including Japanese losses in killed and disabled of around 1Ĺ million, they would probably not be very far out.

The toll of civilian lives was even more indefinite but certainly no less appalling. When all the resources of the embattled nations were mobilized for total war, the distinction between soldier and civilian was largely obliterated, and with it the relative immunity from enemy action which non-combatants had previously been supposed to enjoy. Yet the bombing raids which struck at crowded centres of population accounted for only a small proportion of the casualties. British civilian losses from air attacks were 60,585 dead and 86,175 injured. Japan placed the death toll in her devastated cities at 260,000, and it was calculated that German civilian deaths were in the vicinity of 300,000. Yet these figures, shocking in themselves, shrank almost into insignificance beside the human losses resulting from the callous and deliberate brutality of Germany and her associates in the lands they overran. It was charged that the Nazis were dÓrectly responsible for the deaths of 10 million civilians and war prisoners. The horrors of Oswiecim and Belsen and Buchenwald, the atrocities perpetrated in the occupied regions of eastern Europe, the barbarities of slave labour, were no mere incidentals of conquest. They were manifestations of that calculating inhumanity which lay at the heart of the Nazi creed and outlook, and which issued in a deliberate policy of wholesale extermination of such races as Jews and Poles and Russians. By the end of the war, 5,700,000 Out of Europe's 9,600,000 Jews had disappeared. Poland's population had been reduced by 6 million, and at least as many Russian civilians had perished. The end of the fighting brought a tragic migration of 20 million people in Europe who had been uprooted by the tides of war. Other millions found themselves without shelter or meang of livelihood, weakened by years of under-nourishment and facing starvation in the months immediately ahead. And in the Far East, where Japanese brutality was mitigated only by the fact that it lacked the deliberate and organized objectiyes of the Nazis, there were again uncounted millions to whom war had brought misery and death.

1f the cost in human suffering was immeasurable, the cost in physical wealth would probably never be accurately measured. The belligerents had spent at least $1500 billion in the actual prosecution of the war. The United States alone spent $300 billion. German expenditures were only slightly less; and if Russian war costs wŤre added, the total for these three states by themselves would be in the neighbourhood of $1000 billion. Yet these figures, which represented the diversion of labour and materials to purely destructive purposes, were only the beginning. In addition there was the destruction of existing assets through the ravages of war-the bombing of factories and dwellings, the demolition of power plants and transport facilities and mining installations, the depletion of livestock and even of the soil itselE Britain's estimated war damage of over $4 billion was moderate compared to the losses in the invaded countries of the continent. Vineyards that had been among the main assets of Greece had been uprooted to make way for airports. Some of Holland's richest land had been temporarily ruined by inundations through the broken dikes, and shortage of fertilizer had meant a partial exhaustion of the soil throughout much of Europe.

A considerable part of Poland's mines and industries had been dismantied or destroyed. France's losses through pillage and destruction were estimated at over $100 billion, or nearly half the national wealth. A Russian commission reported that the invaders had destroyed 31,850 industrial enterprises and looted 98,000 collective farms, wrecked 6 million homes and inflicted heavy damage on coal mines and oil wells and railways, and that the economic loss, quite apart from direct war expenditure, amounted to over $108 billion. Facts such as these illustrated the violence of the upheaval and the wreckage which it had left in its wake. Its subsidence left the world faced with a prodigious task of reconstruction.

A large part of the old political and economic structure lay in ruins. Whole nations lay prostrate, the wealth they had accumulated during past generations wiped out, their productive resources ravaged and their trade connections dislocated, their people weakened by privation and deathly weary after six years of sacrifice and strain. The courage and resolution which had carried them through the war would still be needed in equal measure to face the problems of peace.

Losses of the War,
The effects of the war spread far beyond the battlefield. The military machines of the great powers moved men and women away from their homes, some for good. Not only physical violence but also economic requirements changed relationships between nations, societies, and individuals. The war brought ruin to many, to others hope. No other years have transformed so drastically the expectations of millions of men and women. The effects of the war will still dominate world affairs.
I did not forget the sufferings that statistics can muffle and I hope the reader will be able to sense the miseries of this war.

Loss of lives in World War II
Country
Soldiers
Civilians
Total
Jews
Belgium

12.000

76.000

88.000

40.000

45%
Bulgaria

10.000

10.000

20.000

7.000

15%
Canada

37.000

-

37.000

--

China

3.500.000

6à10 million

9,5à13,5 mil.

--

Denmark

400

1.000

1.400

1.500

1%
Germany

3.000.000

3.000.000

6.000.000

170.000

85%
Finland

82.000

2.000

84.000

--

-%
France

199.000

400.000

599.000

90.000

25%
Greece

20.000

140.000

160.000

60.000

80%
Britain

295.000

62.000

357.000

--

Hungary

180.000

280.000

460.000

200.000

70%
Italy

330.000

80.000

410.000

15.000

15%
Japan

1.700.000

360.000

2.060.000

--

Yugoslavia

300.000

1.400.000

1.700.000

55.000

75%
Luxembourg

4.000

1.000

5.000

3.000

80%
Netherlands

19.000

225.000

244.000

104.000

70%
Norway

6.000

4.000

10.000

1.500

40%
Austria

230.000

104.000

334.000

40.000

90%
Poland

125.000

5.800.000

5.925.000

2.800.000

90%
Rumania

300.000

260.000

560.000

425.000

20%
Russia

13.600.00

7.000.000

20.600.000

1.720.000

70%
Czechoslovakia

250.000

330.000

580.000

260.000

90%
United States

293.000

-

293.000

--

The table shows the probable number (Column 5) of Jews killed in various countries and the approximate proportion (Column 6) of that figure to the Jewish population in those countries at the beginning of the 'final solution'.

Losses of leading countries

| | | | | | |
| --- | --- | --- | --- | --- | --- |
| Countries | Mobilize | Be killed | by other causes | Wounded | Missed |
| Germany | 20.000.000 | 3.250.000 | 3.350.000 | 7.250.000 | 1.300.000 |
| Japan | 9.700.000 | 1.270.000 | 620.000 | 140.000 | 85.000 |
| Italy | 3.100.000 | 144.496 | -- | 66.716 | 135.070 |
| Britain | 5.896.000 | 357.116 | -- | 326.267 | 46.079 |
| France | -- | 201.568 | 261.577 | 400.000 | 140.000 |
| Sowjet Union | -- | 6.115.000 | -- | 14.012.000 | -- |
| United States | 16.112.566 | 293.986 | 113.842 | 670.846 | -- |
| In the Far Eastern war, Chinese losses are too uncertain to allow even the most approximate figure to be suggested. | | | | | |
The following is an estimate of military war dead in the war of the Third Reich, 1939-1945:

| Military War Dead | |
| --- | --- |
| Country | Numbers |
| Russians | 7.500.000 |
| Germans | 3.500.000 |
| Hungarians | 410.000 |
| Yugoslavs | 410.000 |
| British and Commonwealth | 400.000 |
| Italians | 330.000 |
| Polish | 320.000 |
| Rumanians | 300.000 |
| Americans | 290.000 |
| French | 210.000 |
| Finns | 85.000 |
| Belgians | 12.000 |
| Dutch | 12.000 |
| The total excluding China and Japan exceeds 13 million | |
The War in Asia and the Pacific

| Countries | Be killed/missed soldiers | Killed civilians |
| --- | --- | --- |
| Americans | 50.000 | -- |
| New-Sealanders | 10.000 | -- |
| Dutch | 8.000 | 10.000 |
| Australians | 30.000 | -- |
| British | 40.000 | -- |
| Japanese | 1.700.000 | 360.000 |
| Chinese | 3.500.000 | 10.000.000 |
| Total | 5.338.000 | 10.370.000 |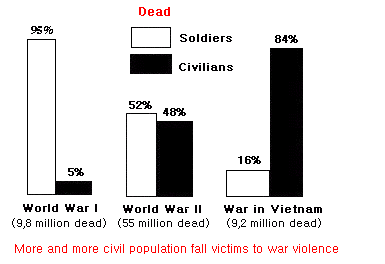 If you would like to include your favorite link or WW II site simply worldwar2@worldwar2history.net send it to us. We hope you enjoyed your stay at "The World at War".
If you know of other interesting related sites please tell us.



[Welcome]- [Introduction]- [1889-1930]- [1930-1938]- [1939]- [1940]- [1941]- [1942]- [1943]- [1944]- [1945]- [Museum]- [WWII HomePages]- [Secret]- [Related]- [Postscript]- [Message-board]- [Comment]- [Guest-book]- [Webrings]- [Trade]
---
Page maintained and created by Wilfried Braakhuis.
Copyright © 1997-2007 Wilfried Braakhuis. All rights reserved.
This page, and all contents, logos and images are Copyright © 1997-2007, and protected by Elite Engineer Publishing, Netherlands law for The World at War.

There's evil in the air and there's thunder in the sky and a killers on the bloodshot streets.