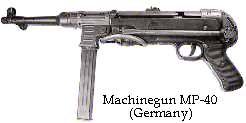 MP-40 (Germany)

Caliber: 9x19mm Luger/Para
Weight: 4,7 kg loaded, 4,03 kg empty
Lenght (stock closed/open): 630/833 mm
Barrel lenght: mm
Rate of fire: 500 rounds per minute
Magazine capacity: 32 rounds
Effective range: ca. 100 meters

The MP-38 and MP-40, often incorrectly referred as "Schmeissers", were developed by german engineer Follmer at the Erma company and adopted by Wehrmacht (German Army) in 1938 and 1940, respectively. The MP-40 is a further modification of the MP-38. Total of some 1.2 millions of MP-38/40 were manufactured prior and during WW2. Initially, MP-38 was intended for use by paratroopers and vehicle crews, but later was widely used by german infantry. Both MP-38 and MP-40 were blowback operated, full auto only submachine guns. MP-38 featured steel machined receiver, while MP-40 featured stamped receiver and stamped magazine veil to make the gun cheaper. The charging handle (located at the left side of the receiver) was used as a safety, locking the bolt in forward or rearward position when placed in cut slots in the receiver. Both MP-38 and MP-40 fired from the open bolt. Both featured special rate of fire reducer, that resulted in very controllable rate of fire of some 400-500 rounds per minute. Both guns featured special detail below the barrel to use the guns from armoured wehicles. Both guns featured underfolding steel buttstock. Both MP-38 and MP-40 featured fixed and hooded front sight and flippable rear sight with settings for 100 and 200 meters. The main drawbacks of the MP 38/40 were the lack of the front handguards that often resulted burned hands during the sustained fire, and the lack of the effective range, when compared to its soviet counterparts (PPSch-41, PPS-43), chambered for more powerful 7.62mm TT round.