The War in the Western Desert,
El Alamein,
In september 1940 Egypt was invaded by Italy from Libya. By february 1941, little British armoured forces inflicted heavy defeats, thousands prisoners of war were taken. But, under General Rommel's aggressive leadership the German Africa Korps won a brilliant series of Axis victories.

Rommel threatened Egypt at the summer of 1942.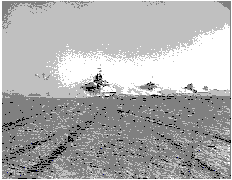 This was the high point of his campaign. He became shortages of equipment and fuel and his supply lines were exposed by Allied attack and too long. Lieutenant-General Montgomery commander of the Eight Army in august, won a decisive victory over Axis forces in November at El Alamein. This battle from 23 octobre until 4 november cost the British Eighth Army nearly 13.500 men killed, wounded and missing, while the Axis had 25.000 and 30.000 prisoners.
Life in the desert war was a series of extremes, from burning hot to very cold, and from noisy life in the front line to the ease of life conditions in Cairo. The forces went to considerable lenghts to keep the men as much in touch with home as possible.

[Welcome]- [Introduction]- [1889-1930]- [1930-1938]- [1939]- [1940]- [1941]- [1942]- [1943]- [1944]- [1945]- [War Museum]- [WWII HomePages]- [Top Secret classified]- [Related Sites]- [Conclusion]- [Link trade?]- [Your comment]- [Guest-book]
---
Page maintained and created by Wilfried Braakhuis.
Copyright © 1997-2002 Wilfried Braakhuis. All rights reserved.
This page, and all contents, logos and images are Copyright © 1997-2002, and protected by Elite Engineer Publishing, Netherlands law for The World at War.