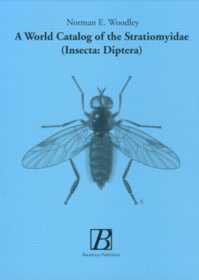 ---
About the book:
The soldier flies or Stratiomyidae are a fairly large family of lower brachycerous Diptera, showing an inordinate amount of morphological diversity for a single family, as well as a fair diversity of habits. Many adult stratiomyids are brightly coloured (illustrated on the 3 colour plates in the book) and moderately large, but probably due to their relative scarcity in the field, they have not attracted the same degree of study that other large fly families, such as the Asilidae and Syrphidae, have received.
This world catalogue, by making the available taxonomic and nomenclatural information available in a single place, will hopefully stimulate further study of this fascinating family.
The starting point for this catalog was a compilation of the available regional catalogues of Stratiomyidae (James 1973,1975,1980; Rozkozny & Nartshuk 1988; Woodley 1989) together with a manuscript catalogue of the Nearctic Region that the author prepared. This material was assembled into a single catalogue format. From that manuscript, every entry was checked again in the original literature, and these papers and numerous others were comprehensively screened for nomenclatural data. Additional names, published subsequent to the regional catalogues, were entered utilizing literature files and Zoological Record. All papers known to the author up to 1 April 2000 have been included. Fossil taxa are not included, as all of the fossil Diptera were recently catalogued by Neal Evenhuis (1994: Catalogue of the Fossil Flies of the World, ISBN
90-73348-28-5, also available from Backhuys Publishers at € 105).

Contents
Acknowledgments Introduction - Phylogeny and classification of the Stratiomyidae (Characters and their states, Character analysis and results, Discussion of recognized subfamilies) - Arrangement and format of the catalog - Taxonomic changes - Plates (2 pages) Table of genera - Catalogue (pp.45-331) - Appendix -Bibliography (83 pages) - Index - Postscript