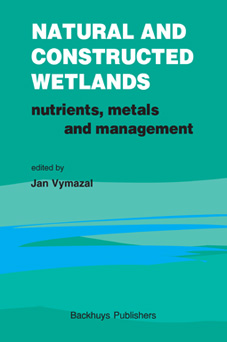 ---
Table of Contents
Preface

Budgets of Nitrogen and Phosphorus Fluxes in Riparian Gray Alder Forest
Ûlo Mander, Krista Lõhmus, Valdo Kuusemets, Mari Ivask, Sille Teiter andJürgen Augustin
Long-Term Effects of Water Level Drawdown on Plant-Mediated Nutrient Cyclingin Sedge-Pine Forest
Raija Laiho
The Response of the Biodiversity of Wet Woodlands to Differing Management Practices
Helen S. Miller, Peter D. Hedges and Philip M. Fermor
First Data on the Use of Two Pilot-Constructed Wetlands for High Loaded Non-Domestic Sewage
Georges Reeb and Martin Werckmann
Initial Experience from a Compact Vertical Flow Constructed Wetland Treating Single Household Wastewater
Carlos A. Arias and Hans Brix
On-Site Domestic Wastewater Treatment by MHEA® Technology: Case Study inBelgium
Didier Cadelli, Marie Nemcova and Michel Radoux
Mlýnský Potok Restoration: 5-year Evaluation
Jan Procházka, Pavlína Hakrová, Pacel Hartvich, Jan Pokorný Sr., and Libor Pechar
Establishment of Wetland Ground Flora: An Analysis of Planting Methodology
Stuart Ireland, Peter D. Hedges and Philip M. Fermor
Metals Removal by Macrophytes Cultured in a Thin-Film Rhizosphere System
Thomas A. DeBusk, Deborah Halcrow and Nancy Chan
Distribution of Heavy Metals in Vegetation of Constructed Wetlands in Agricultural Catchment
Hanna Obarska-Pempkowiak, El?bieta Haustein and Ewa Wokciechowska
Heavy Metals Budget for a Constructed Wetland Treating Municipal Sewage
Jan Vymazal and Pavel Krása
Use of Sludge from Wastewater Treatment Plant for Biomass Production-Heavy Metals Uptake, Ecotoxicity Tests
Jan Pokorný, Jr., Blahoslav Mar?álek, Stìpán Srnka, Jaroslav Svehla,Jan Bastl and Jan Pokorný, Sr.
Phytoremediation Treatment System for Landfill Leachate.
Nick A. Steggal, Peter D. Hedges and Philip M. Fermor
Sado Wastewater Treatment Plant - Beja, Portugal
Verissimo N. Dias, Carla Canseiro, Ana Rita Gomes, Henrique Serra and Carlos Piçarra Martins
Wetland Treatment at Musselwhite Mine, Ontario, Canada
Farida Bishay and Robert H. Kadlec
Nitrogen Transformations and Microbial Activities in Gravel Bed Horizontal Subsurface Flow Constructed Wetland - Aerobic and Anaerobic Incubation Experiments
Tomá? Picek, Jiøí Du?ek and Kateøina Zemanová
Removal of Nitrogen Via Harvesting of Emergent Vegetation in Constructed Wetlands for Wastewater Treatment
Jan Vymazal
Evaluation of a Tidal Flow Reed Bed System for the Treatment of Domestic Sewage-Nitrification Trials
Paul Cooper and David Cooper
Vegetation Effects on Ammonia Reduction in Treatment Wetlands
Robert H. Kadlec
LAS Removal by a Horizontal Flow Constructed Wetland in Tropical Climate
Suwasa Kantawanichkul and Somwadee Wara-Aswapati
The Impact of Typha latifolia L. on the Treatment of Wastewater by Surface-Flow Constructed Wetland
Michel Radoux
Dynamics of Oxygen Transport Through Pistia stratiotes: A Lab Scale Approach
Silvana Perdomo, Masanori Fuhita, Michihiko Ike, M. Tateda andC. Bangueses
The Effect of Water Level Fluctuations on Macrophyte Occurrence and Abundancein the Intermittent Lake Cerknica
Olga Urbanc-Berèiè, Nina Kr?iè, Mojca Rudolf, Alenka Gaber?èik andMateja Germ

Experimental Determination of Evapotranspiration Mates of Wet Woodlands Habitatin England
Katy E. Read, Peter D. Hedges and Philip M. Fermor
The Role of Evapotranspiration in Small On-Site Zero-Effluent Constructed Wetlands
Zdeòka Záková and Pavel Zák
A Preliminary Assessment of the Aquaculture Potential of Two Wetlands Locatedin the Northern Shores of Lake Victoria, Uganda
Rose C. Kaggwa, Frank Kansiime, Patrick Denny and A.A. van Dam
Kinawataka Wetland: A Functional Ecosystem That Could Be Used as aReference to Conserve Other Wetlands in Uganda
Frank Kansiime, Alfonse Opio, Paul Mafabi and Henry Busulwa
Will Fish Pond Management Principles from the Temperate Zone Work in Tropical Fingerponds?
Jan Pokorný, Ivo Pøikryl, Richard Faina, Frank Kansiime, Rose C.Kaggwa,J. Kipkemboi, N. Kitaka, Patrick Denny, R.G. Bailey, H.A. Lamtane
Urban Wetlands in China: the Nexus of Biodiversity and Functionality
John Bavor
List of Participants
Subject Index
PREFACE
In 1994, Jan Pokorný and myself decided to organize a workshop on nutrients in constructed and natural wetlands. The major idea behind the workshop was to invite researchers and scientists who work both on natural and constructed wetlands so they can exchange their experience and gave them a lot of room for discussion. We picked Tøeboò as a venue because wetlands had been studied here since late 1960s. The first workshop took place on September 6 to 9, 1995 and it was organized by Institute of Botany of the Academy of Sciences of the Czech Republic. The event was attended by 33 people from 10 countries from Europe, North America and Australia and 22 papers were presented. All papers appeared in a proceedings Nutrient Cycling and Retention in Wetlands and Their Use for Wastewater Treatment edited by J. Vymazal. The success of the first workshop encouraged us to continue in organizing such events in the future. The second workshop Nutrient Cycling and Retention in Natural and Constructed Wetlands was organized on September 3-6, 1997 again at Tøeboò by Institute of Botany, Wetland Training Center and myself. It was attended by 29 people from 9 countries and 18 papers were presented. Out ofthose, 16 papers appeared in a book published by Backhuys Publishers in Leiden in the Netherlands. In 1999, we decided to move the workshop from Tøeboò and the third workshop Nutrient Cycling and Retention in Natural and Constructed Wetlands III was held on September 14-19, 1999 at a forest hotel Per?lák near Jindøichu°v Hradec, close to Austrian border. The workshop was attended by 35 participants from 13 countries and for the first time a representative from Africa took part in the event. Twenty five papers out of 27 presentations were published in a book Transformations of Nutrients in Natural and Constructed Wetlands edited by J. Vymazal and published by Backhuys Publishers. This time we made the theme of the workshop broader and added also water balance in wetlands, wetland restoration and ecological functional assessment of wetlands. We also decided to tape the discussion and included it in the papers. The fourth workshop returned to Tøeboò and it was organized on September 26 to 29, 2001 by Institute of Botany, myself and NGO ENKI, o.p.s. The workshop was attended by 31 participants from 13 countries from Europe, Australia, North America and for the first time also from Asia and South America. The book Wetlands-Nutrients, Metals and Mass Cycling edited by J. Vymazal and published by Backhuys Publishers, included 21 contributions out of 30 papers which were presented during the seminar. The theme of the workshop was again broader and included heavy metals retention, removal and compartmentalization, reed beds for sludge dewatering, the influence of watershed management on mass cycling or the use of GIS for wetland evaluation. This volume resulted from the workshop entitled Nutrient Cycling and Retention in Natural and Constructed Wetlands V which was held at hotel Babu°rek near Borová Ladain the −umava Mountains on September 24 to 27, 2003. The workshop was organized by ENKI o.p.s. and myself and was attended by 42 people from 16 countries from Europe, Asia, Africa, Australia, North and South Americas. The organization of the workshops 2001 and 2003 was supported by grant MSM 000020001 Solar Energetics of Natural and Technological Systems from the Ministry of Education and Youth of the Czech Republic This time we selected the title Natural and Constructed Wetlands - Nutrients, Metals and Management in order to cover topics of the workshop. The volume contains 28 peer reviewed papers out of 32 which were presented during the workshop. Discussions are included in the form they proceeded during the workshop no matter if the questions were took inconsideration during the final preparation of the manuscripts. There is no discussion on the paper by Michel Radoux because the paper was not presented in full during the workshop.I want to thank all contributing authors for their effort throughout the preparation of the book and the publisher, Mr. Wil P. Peters, for his excellent help during the process of book edition and his continuous support of this workshop publication series since 1997. Finally,I would like to thank my good friend Dr. Jan Pokorný, director of ENKI, o.p.s., for his help, co-operation and continuous support of these workshops.
Prague, April 2005
Jan Vymazal
---