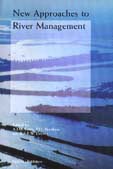 ---
About the book:
An international conference on new approaches to river management was held in September 1998, organised by the University of Nijmegen. The present book is the result of this timely congress, and it fills an open niche in river science information. It contributes to the dissemination of world-wide experience with regard to comprehensive management planning of river basins, and focuses on new approaches to promote sustainable management. The evolution from integrated approaches to sustainable river basin management is highlighted. The book intends to increase public awareness of the necessity of sustainable river basin management. Examples and case studies are taken from all over the world, i.e., Europe, North and South America, and South East Asia.
The peer reviewed and amply documented chapters written by 40 authors cover three themes, viz.: (1) developments in integrated river basin management: applications and lessons learnt; (2) participation of new stakeholders in river basin management, and (3) new methodologies and instruments in sustainable river basin management.
The book covers current issues in river management, such as river regulation, flooding, pollution, habitat destruction and fragmentation, water resource allocation and water-related conflicts. In this context the document should be regarded as a substantial contribution to the underpinning of the upcoming European Water Framework Directive.
Market: water authorities, policy makers, non-governmental organisations, scientists, students and all those who are involved in river basin management.
From the contents
Preface
Opening addresses
New approaches to river management: integration of knowledge and ideas,C.W. Stortenbeker;
The value of sustainable river management, His Royal Highness Prince Willem-Alexander of Orange
Introduction
Articles
-New approaches to river management: general introduction, A.J.M. Smits, P.H. Nienhuis & R.S.E.W. Leuven
-Developments in integrated river basin management: applications and lessons learnt
-River management along the Rhine: a retrospective view, H. Havinga & A.J.M. Smits;
- Strongly polluted deposits in the Meuse river floodplain and their effects on river management, C.J.J. Schouten, M.C. Rang, B.A. de Hamer & H.R.A. van Hout;
-Three centuries of river management along the Mississippi river: engineering and hydrological aspects, G.E. Galloway Jr.;
-Elbe, Odra, and Vistula: reference rivers for the restoration of biodiversity and habitat quality, P.H. Nienhuis, J.C. Chojnacki, O. Harms, W. Majewski, W. Parzonka & T. Prus;
- Management of the Mekong river basin, N.N. Quang;
- Ecological basis for the management of the Pantanal - upper Paraguay river basin, C.J. da Silva
-Participation of new stakeholders in river basin management. New approaches to river management in the United States of America, C.E. Hunt;
-Partners in wetland conservation and development: strategic environmental analysis for the Ukrainian Danube delta, J.C.J. van Wetten;
-Bridging the communication gap in river management, G.J. Matthews & M. Horner;
-Eco-centric cost-benefit analysis for hydraulic engineering in river basins, J.J. Bouma & H.L.F. Saeijs;
-"Fisquality", a proposal for a tax bonus to improve hydro-ecological resilience of river catchments, A. Corporaal
-New methodologies and instruments in sustainable river basin management. Is there a future for big dams?, R.J.A. Goodland;
-Following a diversified strategy to achieve the sustainable use of the Mekong river basin,C.E. Hunt;
-Technical support of public decisions to restore floodplain ecosystems: a status report on the Illinois river project, USA, R.E. Sparks, J.B. Braden, M. Demissie, P. Mitra, D.W. Schneider, D.C. White & R. Xia;
-A policy analysis for the upper Danube river section in Hungary, J. Leentvaar & P.C.G. Glas;
-New concepts in river and water management in the Rhine river basin: how to live with the unexpected?, A.J.M. Smits, H. Havinga & E.C.L. Marteijn;
-Multi-level approach to flood control in the Dutch part of the river Meuse, W. van Leussen, G. Kater & P. van Meel;
-Using natural cleaning processes in the river ecosystem: a new approach to environmental river management. Does natural attenuation out balance the risks of organic and inorganic contaminants in a river ecosystem?, H.J.P. Eijsackers & P. Doelman

Discussion
-From integrated approaches to sustainable river basin management, R.S.E.W. Leuven, A.J.M. Smits & P.H. Nienhuis
Index of authors,
Subject index
---
New approaches to river management
A.J.M. Smits, P.H. Nienhuis & R.S.E.W. Leuven (Eds.)
2000, x and 356 pages with 79 figures and 36 tables., paper.
ISBN: 90-5782-058-7 € 95