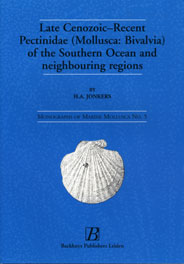 ---

Abstract
The taxonomy of late Cenozoic-Recent Pectinidae of the genera "Chlamys", Zygochlamys and Adamussium from Antarctica, the Southern Ocean and adjacent areas is revised. Species that have been included in Zygochlamys are shown to belong to four genera: Zygochlamys, Psychrochlamys gen. nov., Talochlamys, and Austrochlamys gen. nov. The first genus is confined to Late Eocene-Pliocene rocks in South America; the second is distributed in the SE Pacific, off southern South America and in the sub-Antarctic region of New Zealand with three extant species, Psychrochlamys patagonica, P. delicatula and P. phalara, and has a ?Late Miocene-Recent range; Mid Eocene-Recent Talochlamys is widespread in the temperate Southern Hemisphere; and Austrochlamys is a chiefly fossil Antarctic genus, with one surviving species, A. natans, in southernmost South America. Oligocene-Recent Adamussium is exclusively Antarctic. Four new species and two new subspecies are described: early Late Pliocene Psychrochlamys whenuataruensis from the New Zealand region, ?late Pleistocene Austrochlamys natans walosseki from the Patagonian shelf and off New Zealand, and Early Miocene Austrochlamys marisrossensis, Oligocene Austrochlamys gazdzickii, Pliocene Adamussium colbecki cockburnensis, and Oligocene-?Early Miocene Adamussium alanbeui, all from Antarctica. One new tribe is defined: Austrochlamydini. Analysis of shell morphology suggests that all genera contained both byssate and free-living forms.
It is concluded that Psychrochlamys evolved from Zygochlamys during the Late Miocene, when cold-water habitat became more widespread in South America as a result of expanding Antarctic ice shelves. The spatial and stratigraphical distributions of fossils of Austrochlamys and Adamussium suggest that these genera largely (or entirely in the latter genus) evolved in Antarctica, and that faunal exchange with areas north of the Antarctic Convergence was limited to the Late Miocene expulsion to South America of forms ancestral to A. natans. Long distance faunal migrations were instead mostly of a longitudinal nature, with repeated arrivals of Psychrochlamys in New Zealand, and a single dispersal event of Austrochlamys natans, probably during late Pleistocene. The Late Pliocene extinction of Austrochlamys in Antarctica is thought to result from the loss of shallow-water habitat, caused by the expansion of shelf ice due to cooling at around 2.5 Ma.
Keywords: Mollusca, Pectinidae, taxonomy, evolution, ecology, Cenozoic, Antarctica.


---