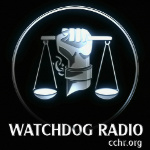 Follow us on Twitter - Visit: www.cchrint.org
Announcing CCHR Int's Watchdog Radio on iTunes!
The Citizens Commission on Human Rights (CCHR) International has launched Watchdog Radio on iTunes. Watchdog Radio is a weekly radio show hosted by JC McKinley, who interviews leading experts on the fraud of psychiatry and psychiatric treatments, leaving no stone unturned. These shows range in topics from exposing psychiatry's billing bible—the DSM, to psychiatric drugging of children and alternatives to psychiatric treatments. Some of the guests include:
Dr. Colin Ross, author of The CIA Doctors, Military Mind Control and Project Bluebird. Click here to listen.

Allen Jones, who worked as an investigator in the Pennsylvania Office of the Inspector General, gained widespread national and international attention as the whistleblower that uncovered and exposed the Texas Medication Algorithm Project (TMAP), a covert means to sell expensive psychiatric drugs through government-funded programs. Click here to listen.

Former drug company chemist turned whistleblower, Shane Ellison. Click here to listen.

Kay Carlson, former pharmaceutical representative and author of Diary of a Legal Drug Pusher. Click here to listen.

Plus many more.
The shows are posted on iTunes every Monday. Subscribe today.
You must have the iTunes application on your computer to subscribe. If you don't already have it, you can download it here.
For more information on CCHR, go to: www.cchrint.org and www.cchr.org.
© 2010 CCHR. All Rights Reserved. CITIZENS COMMISSION ON HUMAN RIGHTS and
CCHR are trademarks and service marks owned by Citizens Commission on Human Rights.
CCHR International · 6616 Sunset Blvd · Los Angeles, CA · 90028